Welcome to the Atlanta Adult Swim League. It's summer league…for grown ups!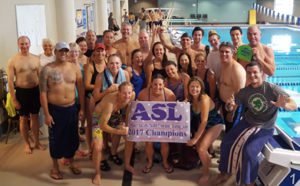 Meet themes include:
Sprint Meet: The blazing fast 25s will give you a chance to get back to your 10 & under days, while also easing you into the spirit of competition with short races!
Traditional Meet: After warming up with the 25s, we will get back to the basics and swim the events and distances you have come to know and love at a swim meet.
Distance Meet: After much deliberation, we have decided to have a distance meet that will feature 200's of stroke events and the IM for those of us who love to play wall tag!
Championships: This meet will determine our age group champions, as well as our team champion for the 2016 season.
Olympic Meet: Seeing as it is an Olympic year, we have decided to schedule our fifth and final meet during the Rio Games, and will partake in the festivities in our own special way by swimming long course meters! Do not worry, we will stick to 50's (one lap) with the exception of a 100m (two laps) freestyle.
League Fees: In the interest of appealing to those who have recently graduated from ASA, we have decided to reduce league fees for the 18-24 age group to $15 to get more newly minted adults into the fun that is ASL!
Age Groups
19-29, 30-39, 40-49, 50-59, 60-69, 70-79, 80-89, 90-99, etc.

For example: 77 year olds will score in the 70-79 age bracket

Meets
4 Open Invitational Meets and a Championship
(each meet with a different event theme)Week 1: Sprint Meet, 25's, 50's, and 100 Freestyle

Week 2: Traditional Meet Events

Week 3: Distance Meet ft. 200 Stroke Events and IM

Week 4:  Olympic Meet, swimmers will compete in 50 meter races, just like the Olympics!

Week 5:  Adult League Championships

Team
Requirements
There are no team requirements. The league will still be made up of teams across the city, however any member of the league is welcome to participate in any of the meets. So no desire to be on a team … No Problem! No team in your area … NO Problem! Want to start a team in your area but only have a few people … NO PROBLEM! We want anyone to feel welcomed and comfortable in the league and at our meets.. The Championship meet will still be score by team and awards given as such.
League Fees
This is the only fee you will have to pay to be a member of the league and swim in the 5 meets. If you join a team they may have a fee to cover pool time for practices and coaches.

19-24 – $15.00

25 & Over – $45.00